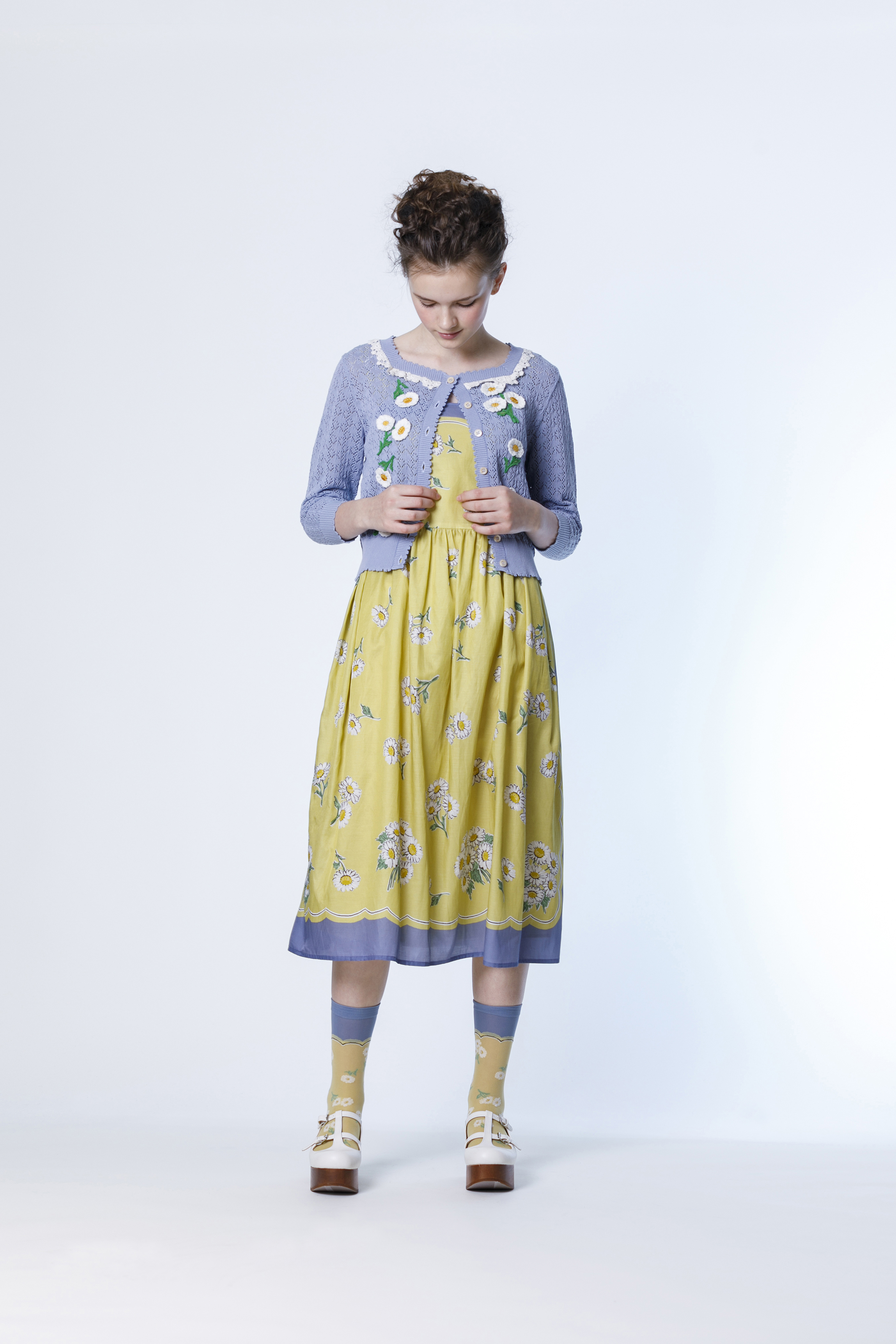 2021 spring & summer I
STICKING OUT OF MY HEART DRAWER


2021 Spring & Summer
STICKING OUT OF MY HEART DRAWER

Something that's been deep in my heart for a long time...
Things that time had made us forget...
Now, once again, it becomes something summoned...

〈Jane Marple〉

- Drawing room -
«Drawing room» is an image of furniture and furnishings cut out from old catalogs and collaged on the old floral wallpaper and a western chintz carpet.
The mysterious worldview that expands into a gentle tone revives nostalgic scenes at the back of one's mind.
The series, combined with warm handcrafting, gently opens the door to a new fantasia...

- Noble furniture -
«Noble furniture» features a completely different expression of the 19th-century hand-colored furniture sample plate mentioned above.
Against a background of pale and vibrant colors, the timeless beauty of the style is silently and vividly aligned.
Suggesting a brilliant beauty with casual items added to the royal road style...

- Strawberry garden -
Strawberry is a color for every season. It will bring out a wide range of new approaches in this season too.
The print by the designer who has been working with the brand since its foundation features a «Strawberry garden», which is fresher and brand new for its 36th spring.
«Strawberry embroidery» is made of printed motifs with three-dimensional embroidery.
Decorating tightly the front of the lightly cool Souvenir jackets, dresses and cute cardigans.
Vintage-inspired blouses and dresses in the Liberty print "Strawberry thief" make a lovely illustration of collar bordering.

- Strawberry jacquard -
«Strawberry jacquard» is cut jacquard applied all over on the cupro cotton surface.
Unique gem textiles are carefully woven in Japan's proud Kiryu area production.
A special piece of clothing that will softly color an extraordinary moment...

- Swinging Daisy / Miss Daisy -
This season's flower series is called Daisy, it bears symbols such as the words "peace" and "hope".
«Swinging Daisy» is decorated with motifs made of wool-felt, now a rare material.
Embroidered and Washer-processing petals sway charmingly on transparent chiffon and crochet lace.
Enjoy the unique craftsmanship of the brand...
« Miss Daisy» is inspired by a 60's vintage scarf.
Bold bicolor patterns are interspersed over pure white Daisy in a refreshing way.
Coordinate it with «Swinging Daisy» for a gorgeous look.
Enjoy this series filled with the light and breeze of the cool season...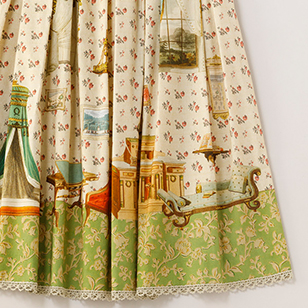 Drawing room
オールドの小花の壁紙と西洋更紗の絨毯に
古いカタログから切り抜いた、家具や調度品をコラージュした「Drawing room」。
穏やかなトーンに拡がる不思議な世界観は、心の奥の懐かしい情景を寄びもどす。
あたたかいハンドクラフトを併せたシリーズは、新しいファンタジアへの扉を優しく開ける…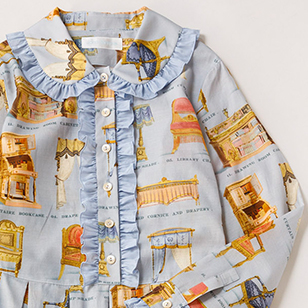 Noble furniture
前出にも有る19c手彩色家具の見本プレートを、全く違った表現で見せる「Noble furniture」。
淡いブライトカラーの背景に、時代を超えた様式美を、寡黙に懍と並ばせた。
王道のスタイルに、カジュアルなアイテムを加えた聡明な美しさを…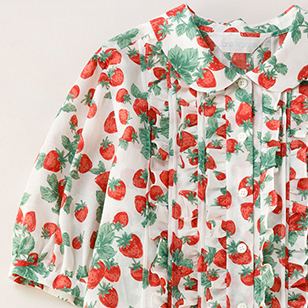 Strawberry garden
毎シーズンを彩るStrawberry。今季も様々な新しいアプローチで見せる。
ブランド創設以来手掛けてきた図案家に依るプリントは、36年目の春により一層フレッシュで瑞々しい「Strawberry garden」を。
プリントのモチーフを立体的な刺繍で表現した「Strawberry embroidery」。
少しCoolなスーベニアジャケットやドレス、Cuteなカーディガンにはフロントをギュッと飾って。
ヴィンテージ風ブラウスやリバティプリント「Strawberry thief」のドレスは衿周りを愛らしい表情に縁どられる…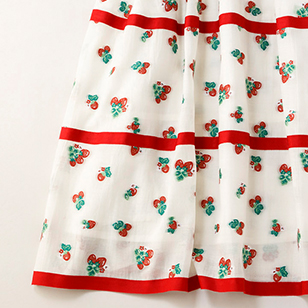 Strawberry jacquard
キュプラコットンのグランドに全面カットジャガードを施した「Strawberry jacquard」。
曽てない珠玉のテキスタイルは、日本が誇る桐生産地から丁寧に織り出される。
特別な1着が掛けがえのない時を優しく彩る…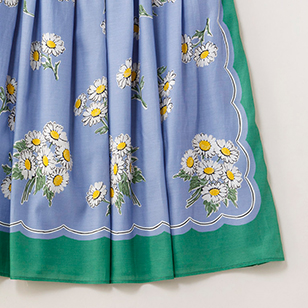 Swinging Daisy / Miss Daisy
今季のフラワーシリーズは「平和」と「希望」が花言葉のDaisyを。
今や希少になった羊毛フェルトのモチーフを飾った「Swinging Daisy」。
透け感の有るシフォンやクロッシュレースに、刺繍やワッシャー加工を施した花びらがチャーミングに揺れる。
ブランドならではのクラフト感を楽しんで…
60'sヴィンテージスカーフから着眼した「Miss Daisy」。
大胆なバイカラーの中に真白なDaisyが清々しくちりばめられる。
「Swinging Daisy」とのコーディネートも華やかに。
爽やかな季節の光と風をいっぱいに装ったシリーズを…

〈Jane Marple Dans Le Salon〉

- Silk cotton lawn / Cotton linen -
The launch of the brand starts with pastel-colored «Silk cotton lawn» and natural looking «Cotton linen» outfits.
Two opposing ranges, between a soft sheer loan fabric and the tension of the cotton-linen combination start the season in style...

- D'Anjo coast -
«D'Anjo coast» is a Liberty print with delicate single flowers, designed in a 30's silver studio.
A large cape blouse will give you a complete trendy look.
Enjoy the spread volume of the shirtdress matching the stripes.
The skirt, which comes in a mix of five different patterns, has a really enticing 360-degree flare.

- Take a little trip -
The original textile is Toile de Jouy, so as to «Take a little trip» in the late 18th century.
The print motif of a ship, a lighthouse, and lilies reminds us of the seaside in faraway France.
The nostalgic marine style invites you on a gentle and peaceful sentimental journey...

- Chorus -
The «Chorus» Liberty print features a gorgeous garden with decorative flowers, branches, berries, and exotic birds that look as if they have been embroidered.
Romantic items include frills and lace and dresses with layers of realistic embroidery matching the patterns of the prints,
Revel in this series of products with the brand's unique craftwork that will bring a light to your heart....

- Good old Paris -
«Good old Paris» is depicting Parisian landmarks, maisons, and the people who live there with a nostalgic touch.
The elegant luster and soft silhouette reflect a delightful daily life.
Adding red, mint blue and colors with a French hue, embellish the tender look evoquing a faraway city.

- Tiny flower jacquard -
«Tiny flower jacquard» is as a delicate nylon and small flower motifs woven into a micro modal structure.
The rare jacquard, as if escaped from the history of clothing, also comes from the Kiryu mill.
The flowers, with their quiet luster and sense of depth, are carefully colored, beautiful and delicate for a special occasion....

- The grand house -
«The grand house» is like a large image of an imaginary villa, mimicking an illustration on a sales poster from a Seedling House published in the 19th century.
The garden, seen from above is studded with numerous trees and flowers, a fountain of hope written in French, and an amusing evergreen tree.
Holding to the core of the brand's unique mission that supports the artisan spirit unraveling and weaving into a future created out of a bygone era...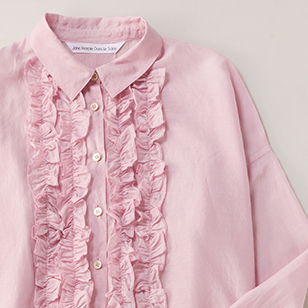 Silk cotton lawn / Cotton linen
ブランドの立ち上がりはパステルカラーの「Silk cotton lawn」とナチュラルテイストの「Cotton linen」のアンサンブルから。
柔かくシアーなローンと、コットンリネンの張り感、相反するカウンターを合わせてシーズンの幕開けをスタイリッシュに…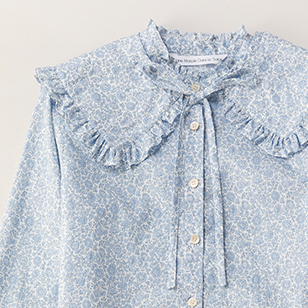 D'Anjo coast
30'sシルバースタジオに依りデザインされた、単品の花々が優しいリバティプリント「D'Anjo coast」。
大きなケープブラウスはトレンド感満載に。
ストライプに合わせたシャツドレスは、広がるボリュームを楽しんで。
5種類のパターンmixのスカートは360度たっぷりのフレアーに心が躍る…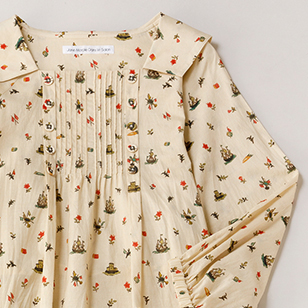 Take a little trip
オリジナルのテキスタイルは18c後半のトワルドジュイ「Take a little trip」から。
船と灯台、百合の花をモチーフにしたプリントは、遥か遠いフランスの海辺へ思いを馳せる。
ノスタルジックなマリンスタイルは緩やかに穏やかな心の旅へと誘われて…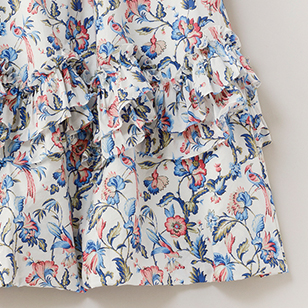 Chorus
まるで刺繍を施した様な装飾的な花、枝、ベリー、そしてエキゾチックな鳥が華やかな庭を作るリバティプリント「Chorus」。
フリルやLaceを遇らったロマンティックなアイテムと、プリントの柄に合わせてリアルな刺繍を重ねたドレス。
ブランドらしい拘りの有るクラフトワークに心煌めくシリーズを…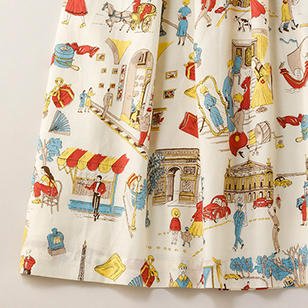 Good old Paris
パリの名所やメゾン、そこに暮す人々を懐しいタッチに描いた「Good old Paris」。
上品な光沢と柔らかなシルエットに、微笑ましい日常が映し出される。
レッドとミントブルー、フレンチテイストのアクセントカラーを加えて、遠い街並みへの憧憬を優しくたおやかに装って。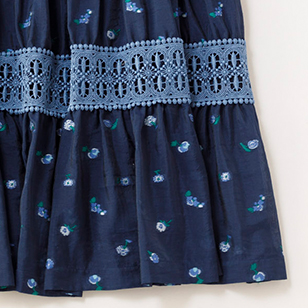 Tiny flower jacquard
繊細なナイロンとマイクロモダールの組織に小さなフラワーモチーフを織り込んだ「Tiny flower jacquard」。
服装史から抜け出た様な希少なジャガードも桐生の機場から。
静かな光沢と奥行き感に在る花々は、特別な1日オケージョンシーンも、美しい品性の中に、大切に彩られる…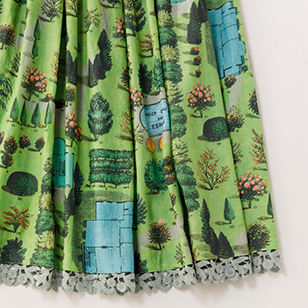 The grand house
19cに出版された苗木屋のセールス図版をモチーフに、
架空の別荘地をイメージして大きなポスター状に表した「The grand house」。
空中から見降ろした庭園にはナンバリングされた樹木や花々、フランス語で記された希望の泉を、ユーモアに溢れたエバーグリーンを敷きつめる。
懐かしい時代に創られたアルティザンスピリットを、再び紐解いて未来へ紡ぐ、ブランドならではのSense of missionを胸に掲げて…