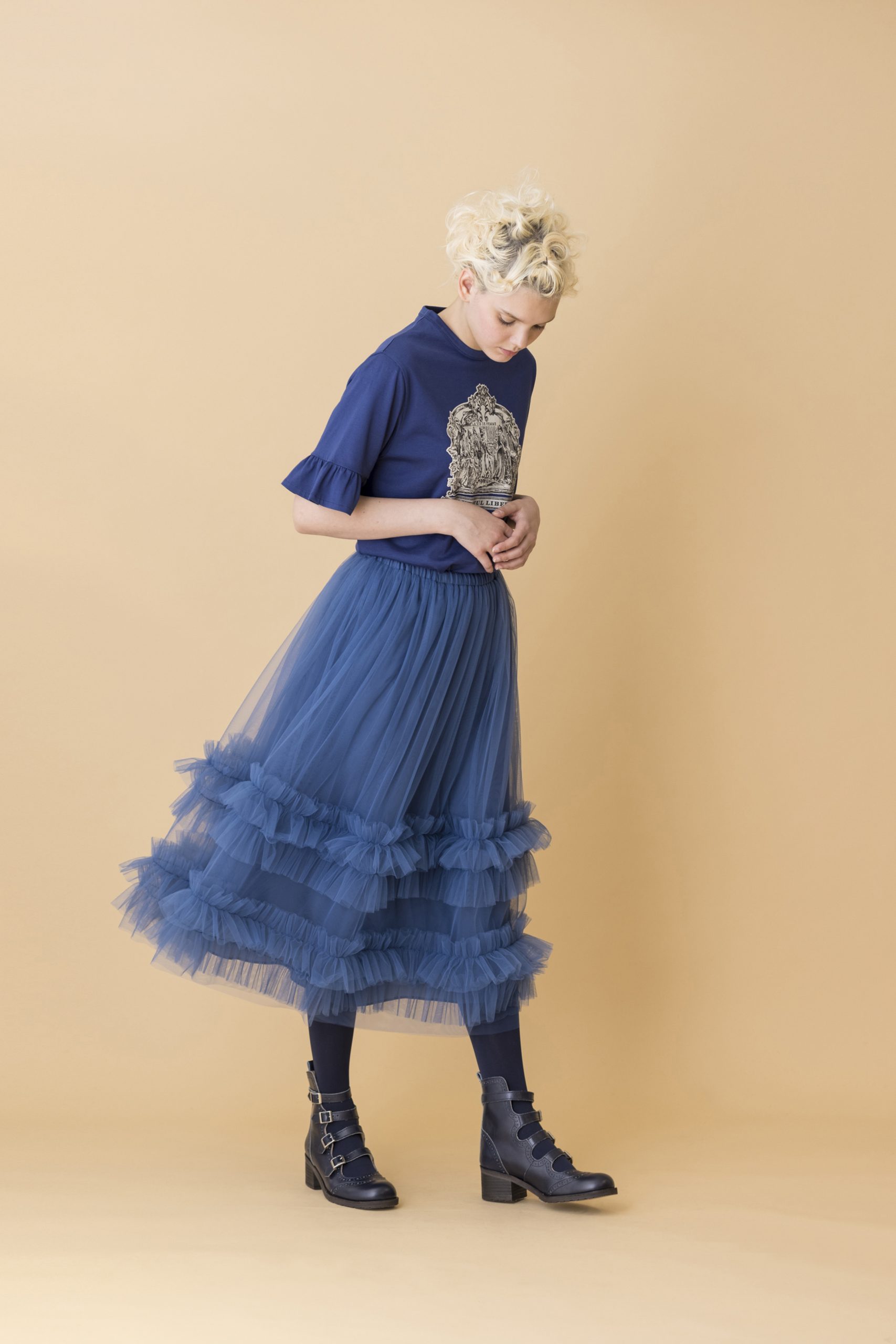 2022 autumn&winter Ⅰ
BEAUTIFUL LIBERTY


「BEAUTIFUL LIBERTY」
The certainty that exists on the other side of everyday life...
Now, one step forward...
Proof of the beautiful freedom that adorns the first person...

《Jane Marple》
« Spirit of liberty » is drawn by delicate etchings with a humorous perspective based on women who enjoyed freedom and played an active role in the late 19th Century.
Elegant fan patterns are put as dots, and framed by grape branches and leaves which decorate it beautifully.
Orthodox skirts and dresses with shorter length items were added to create a resilient female image.
A cozy series of products with the brand's unique take on the genderless world launches the season.

In 2022, Britain's Queen Elizabeth will celebrate her 70th year on the throne with a Platinum Jubilee.
From the brand, « Jubilee Flowers » a colorful bouquet of flowers and message ribbons are featured celebrating the ceremony.
Items colored with an elegant sheen can be worn with a teddy jacket or sweatshirt for a charming dressed-down look.
With a profound tribute to Queen Elizabeth offered in a series of spectacular...

« Memory shadow check » is woven with high-count polyester yarn.
With functional season-inspired dark tones materials are fused with contrasting hand smocking and vintage embroidery techniques, suggesting the brand's typical neoclassicism.
This series shows a clean beauty, with contrast with off-white color in a somewhat Gothic mood...

« Flower crests » are an unusual array of 13 different floral crests.
This series was created by adding a traditional air to a collection of heraldic designs published in England in the mid-19th century.
The dress combines a tartan check print on the back and is a fun item that can be worn with either side on the front.
The marine collar dress is tied tightly with an original logo ribbon for a crisp look.
Cute and dashing style that spells intelligence and philosophy, carried on the season...

The original « Tartan check »  has been spun every season.
This season's new color lineup includes a sap green check.
Three types of materials will be offered: printed, carded yarn-dyed, and spun double-sided raised.
The printed material can be combined with the aforementioned «Flower crests » and Argyle sweaters for a cute traditional-based look.
Cape jackets and skirts with plenty of volume, knickers pants, and Dormitory style is also a combed check with a full Royal feel.
Big check coats and stole also bring the season to life with high quality finishes.
We weave the history of the brand carefully into the next generation...

This season's finale is a majestic old European castle framed by floral reliefs.
« Château Gobelin », a tapestry woven with overwhelming beauty on a rare artisan spirit.
Bustier, skirts, dresses, and other carefully patterned items are combined with fine velvets to project a dramatic scene that corresponds to the dignity of the...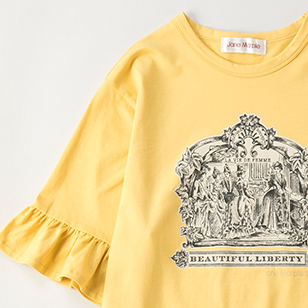 Spirit of liberty
19世紀末自由を謳歌し活躍する女性達を、繊細なエッチングをユーモラスな視点で描いた「Spirit of liberty」。
エレガントな扇子柄をスポットに飛ばし、葡萄の枝葉のフレームが美しく飾る。
王道のスカートやドレスに軽やかなレングスのアイテムを加えて、溌剌とした女性像に仕上げた。
ジェンダーレスな世界観をブランドらしい切り口で、瀟洒なシリーズがシーズンを立ち上げる。

《Jane Marple Dans Le Salon》
The brand starts with the line « Tudor tulip » a botanical-patterned Liberty print designed with a new interpretation of Art Nouveau.
Blouses and dresses with the soft drape of Tana Lawn, and pants and skirts with a paper-like finish by coating the fabric.
The diversity of silhouettes, which are contradictory in terms of fall and tension, is shown in a fun way.
The skirt is reversible with plain taffeta, offering a wide variety of coordinate possibilities...

« La fête foraine » is a scarf with a theme of a mobile amusement park held in Paris in autumn, with various attractions and people playing there are laid out on a scarf.
Cafes with a view over the fireworks, walkways and the Ferris wheel and carousel...
The special daily life of the good old days is vividly depicted in happy expressions.
A beautiful reproduction of a rectangular scarf that is put together like a puzzle, fashionable and fun to wear with a free spirit...

The shape memory material in this brand is « Memorial check » which is made by beating cotton weft yarns into polyester high-count warp yarns.
Monotone and Black watch, conventional high counts combined with a supple tension, are two beautiful types of material.
Items that enjoy change with various drawstring effects, and skirts and dress that show off their clean strength.
Three-dimensional forms are styled as freely as possible using various approaches...

« Royal bone china » featured an array of English-style teacups ranged in a peony-shape design in rose and blue on two-color fabrics.
The well-known tea motif also appears in a completely new offer this season.
Mysterious arabesques, symbolic lion motifs, lucky icon dragons, and geometric floral patterns.
This playful series is a fusion of four different types of textiles in a graceful balance.
Match it with a beautifully colored top and tights for a special mix of style and fun...

« Tartan check » is also a seasonal essential for this brand.
The same three types of textiles as mentioned above will be developed with a brand's unique approach.
In printed materials, pleated skirts and dander pants with plenty of volume.
Worsted checks bring a handsome British spirit to mannish ensembles and stylish kilt skirts.
The blanket-like big tartan is crossed with nylon twill for a relaxed silhouette.
The fringe-trimmed stole cloak elegantly references Scottish history and culture.
Low-gauge Nordic knits and velvet items are the essence of coordination, sending festivities into the deepening season...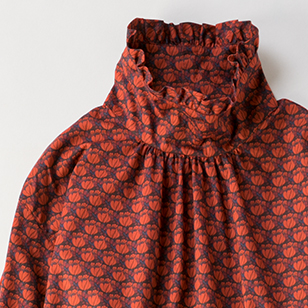 Tudor tulip
こちらのブランドの立ち上がりは、アールヌーボーを新しい解釈でデザインしたボタニカル柄のリバティプリント「Tudor tulip」。
タナローンの柔らかいドレープ感を活かしたブラウスとドレスに、布地にコーティングをかけペーパーライクに仕上げたパンツとスカート。
落ち感と張り感、相反するシルエットの多様性を楽しく見せる。
スカートは無地のタフタとのリバーシブル仕立てで、バラエティに富んだコーディネイトを提案する…