2019 autumn & winter Ⅱ
OUR LIFE IS OUR ART


〈Jane Marple〉

Lovely animals are dancing on "Circus town".
The bright color printing is spreading all over the fabric,
while some nostalgic motifs are decorating the Handkerchief Collar blouses and dresses.
Joyful souvenirs delight this autumn through the textile.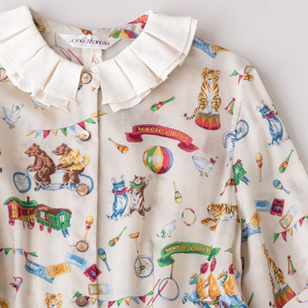 Circus town
愛らしい表情いっぱいに動物たちが繰り広げる「Circus town」。
ブライトカラーに楽しく拡がる全面プリントと、懐かしいモチーフに飾られたハンカチーフカラーのブラウスやドレス。
深まるシーズンに、ワクワクした愉しい記憶をテキスタイルに重ねて…


〈Jane Marple Dans Le Salon〉

Colorful bobbins, chatelaine edging, vintage buttons, pincushions and thimbles are neatly stringed together in "The Dressmaker".
The objects, carefully used in ancient times, remind the craftsmen's spirit,
and offer a cheerful moment to daydream about each motif.
The contemporary cutting brings a new approach to the ensemble.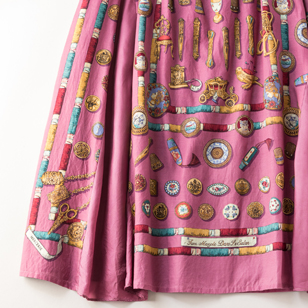 The Dressmaker
カラフルな糸巻きとシャトレーヌの縁取りにヴィンテージの釦やピンクッション、
指ぬき等が整然と美しく並んだ「The Dressmaker」。
遥か彼方に丁寧に使用されていたモノ達と、職人気質に魅了されながら、一つ一つのモチーフに思いを馳せる倖せな時間。
今の時代の潔いカッティングで新しいアプローチに紡がれる…