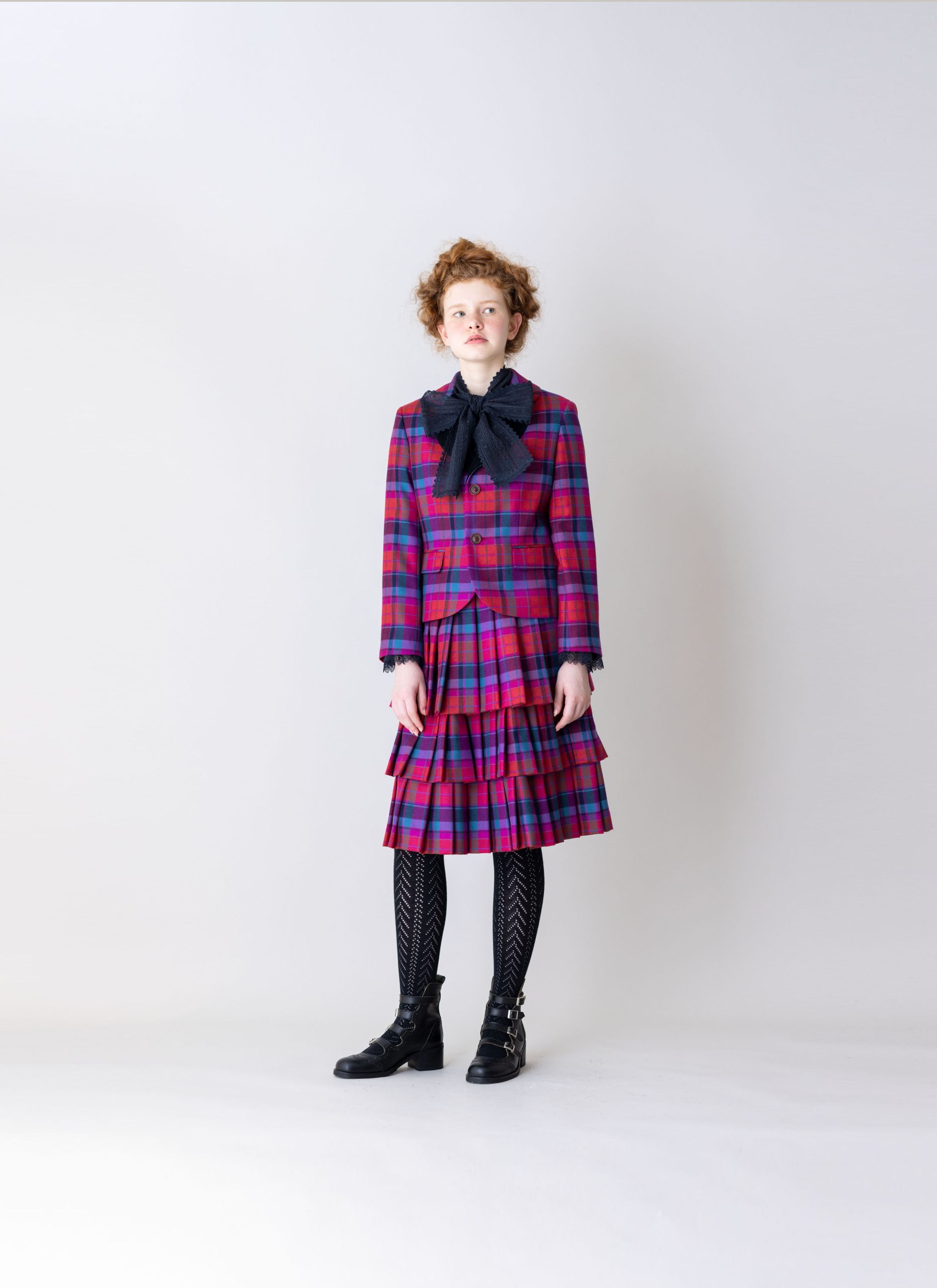 2023 autumn&winter Ⅱ
Every day is the day


On a Liberty fabric called « FOREST DELIGHTS », the motifs of fallow deer and birds playing around in a charming forest compose a pattern of peaceful fantasy.
Under this theme, we offer a reversible skirt, a quilted strap dress suitable for the season, and a garden dress adorned by faux handmade laces.
Pairing them with the Baby knit with lovely flowers of hand embroidery or the fake fur headband will delight the new season gently and warmly...

On « Royal Library », the books related to the British royal family are floating in the air, arranged into a sequence resembling a bookshelf.
The hand-printed pattern in a resonant, hand-drawn style expresses its strong presence that goes against the digital age.
With a wide range of items from a T-shirt, a knitwear to dresses, the theme presents a series overflowing with the brand's Royal spirit.

« Puss in Boots » is a pattern composed of scenes from the famous European folklore illustrated in a picture book style.
The humorous depictions of the cat and other animals in retro-feeling and delicate colors amusingly tell the story.
In the airy atmosphere of the theme reflecting the fairy-tale worldview the brand has been nurturing, you will be ushered to the next season in a speedy and playful manner...

Reminiscent of a French craft store of the good old days in Europe, « Sewing Kit » is a beautifully colored scarf embellished with illustrations of pincushions, thimbles, and buttons, each in its lovely form, and chatelaines, one placed at each corner.
One of the brand's specialties is the pattern-making skill to transform flat rectangular shapes into three-dimensional items. Applying this skill in a careful manner, we have developed a series of elegant items again for this season...

The Liberty fabric for this brand is « Roman Rose ». It is a textile in elegant antique tones featuring roses, a retro and gorgeous botanical print on corduroy.
Dressing in the sweet granny style with a kid mohair knitwear fills your heart with warm thoughts...

« Winter daisy » features flowers and leaves in three colors, rendered in a three-dimensional style using a flocking technique rarely used today.
This theme offers a choice of glamorous grey or chic black, and the items outlined by graceful shades and shadows are available in both colors.
This romantic theme gently illuminates the season's finale in the deepening winter...