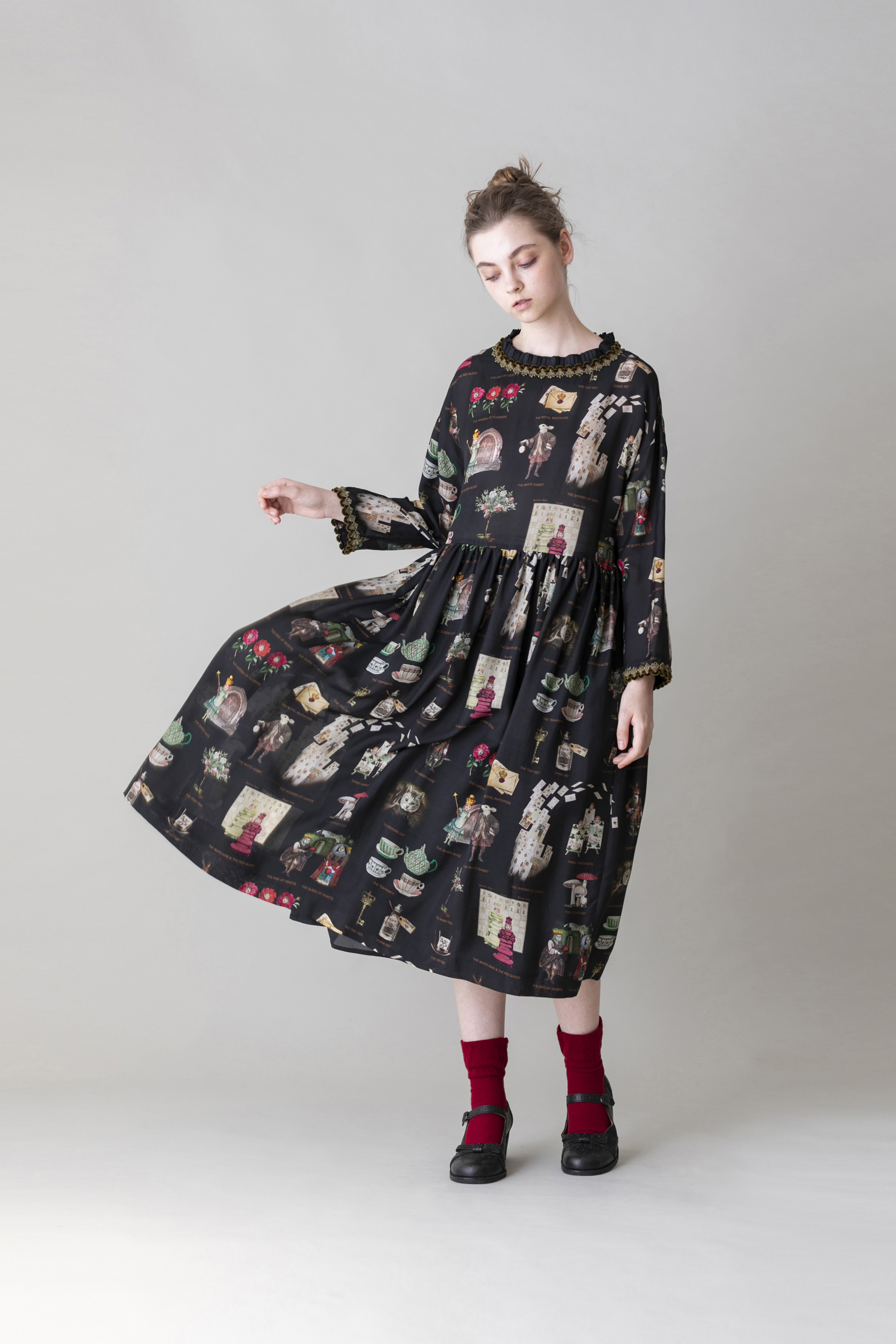 2020 autumn & winter Ⅱ
THE 35TH RIBBON


2020 Autumn & Winter
The 35th ribbon

In 2020, Jane Marple is celebrating 35th anniversary.
The 35th ribbon connected from the past to the future.
A single thought carefully and beautifully decorated beyond the depths of the mind...

〈Jane Marple〉

- Color in tales -
Stained glass developed with the prosperity of Gothic art.
The four patterns, drawn to touch at that time as an elaborate expression were from the Grimm's fairy tales.
Little Red Riding Hood, Rapunzel, Puss in Boots and Town Musicians of Bremen.
Fantasia that the brand has been weaving season after season is connected with great care putting new interpretation of classicism...

- British stripe -
"British stripe" with stripes woven into the herringbone structure and the "Shepherd check" consisting of a two-color grid.
The "British mix" is an exquisite combination of two types of Made in Italy and tailor-made textiles.
Wearing the detailed design of the neo-traditional pieces, vivacious Brit girl runs through the season...

- Tiny wild -
"Tiny wild" is a graphical representation of the exotic pastoral landscape painting. Arty cats and tigers lurk in the heartwarming landscape spreads across the fabric.
Color on color and hand crafted elements are also clever approach.
Enjoy abundantly the brand's unique and folkloric style...

- Alice's dictionary -
For the 35th year's finale is the eternal fairy tales symbol "Alice."
Like antique botanicals and mineral books, "Alice's dictionary" is expressed by print of Alice's worldview.
"Alice's embroidery" shows patterns from the story with delicate embroidery.
White rabbit in the medieval Scottish clan kilt boldly adorns sweaters and sweatshirts in "White rabbit embroidery."
"Alice's dress" is knitted with the image of the main character Alice.
Adding casual printed T-shirts, please see a traditional wonderland carved in a variety of perspectives.
Thirty-five years of thoughts, tracing beautiful spirit are carried on a royal style, sending the baton to a new season...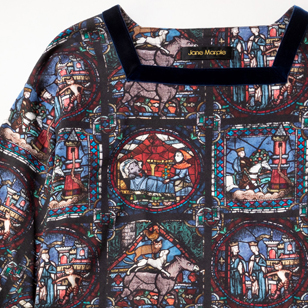 Color in tales
ゴシック美術の隆盛と共に発展したステンドグラス。
当時のタッチで緻密な表現に描かれた4種のモチーフはグリム童話から投影した「Color in tales」。
赤ずきん、ラプンツェル、長靴を履いた猫、そしてブレーメンの音楽隊。
ブランドがシーズン毎紡いできたファンタジアは、クラシシズムに新しい解釈を加えて大切に繋がれる…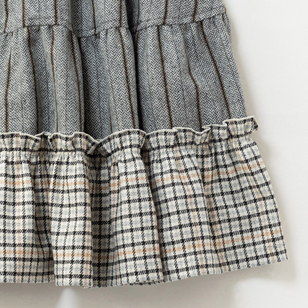 British stripe
ヘリンボーン組織にストライプを織り込んだ「British stripe」と2色の格子で構成された「Shepherd check」。
made in Italy、テーラー仕様の2タイプのテキスタイルを絶妙に組み合わせた「British mix」。
細部迄デザインされたNeoトラディショナルなアイテムを纏って、
溌剌としたブリットガールがシーズンを駆け抜ける…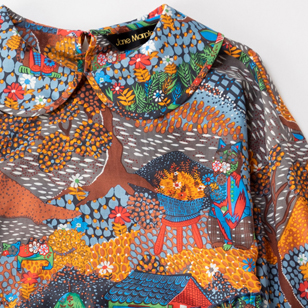 Tiny wild
異国の牧歌的な風景画を、グラフィカルなタッチで表現した「Tiny wild」。
布地に拡がるほのぼのとした景色に、アーティーな猫やトラが隠れ潜む。
カラーオンカラー、ハンドクラフト要素も巧みなアプローチに。
ブランドらしいユニークでフォークロリックなスタイルを、思いっきり楽しんで…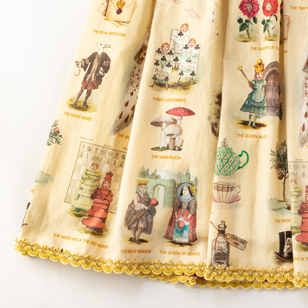 Alice's dictionary
35年めのフィナーレは、永遠のフェアリーテイルのシンボル「Alice」を。
アンティークなボタニカルや鉱物図鑑のように、アリスの世界観をプリントで表現した「Alice's dictionary」。
ストーリーに登場するモチーフを繊細な刺繍で見せる「Alice's embroidery」。
中世スコットランド氏族のキルトを纏った白うさぎが、セーターやスウェットを大胆に飾る「White rabbit 's embroidery」。
主人公アリスのイメージをニットで編み上げた「Alice's dress」。
カジュアルなプリントのTシャツも加えて、様々な視点で切り取られた、圧倒的なワンダーランドを。
美しい品性になぞられた35年目の想いは、ロイヤルなスタイルに乗せて新しいシーズンへのバトンを送る…

〈Jane Marple Dans Le Salon〉

- Winter leaf -
The beginning of this brand is from "Winter leaf", which green leaves swaying gently in the bright colors of yellow and coral.

Soft materials and gentle colors dye the season tends to be shady and gloomy.
Combined with angora yarn pullovers and outerwear for warm and hearty series...

- Ribbon jacquard -
The "Ribbon jacquard" is slacking rayon stitch jacquard interwoven with small patterned ribbons in a three-dimensional way.

From casual, down to the season fewer formal occasions,
the items with good use of narrow impression material make dressing various occasions stylishly...

- Vintage stripe -
"Vintage stripe" is reminiscent of Victorian loungewear.
The brushed stripes of cotton Viyella are decorated with bold scalloped embroidery, which was popular at the time.
Kid Mohair, patterned mixed knits, men's tailored hunting jackets, etc.
Warmly layered with contemporary items, making gentle but much sharp style this winter...

- Grape palace -
"Grape Palace" is drawn by inspiration of vintage fabrics.
Grape shelves that look up to in the air of two different colors of Ivory and navy, each expression are reflected lyrically.
The mink-covered cardigan with hand-touch embroidery adds cheerfulness and glamorous effect to its coordinate.
The longing for grapes existed over the years is carried on dramatic textiles, beautiful and graceful time passes in the deepening seasons...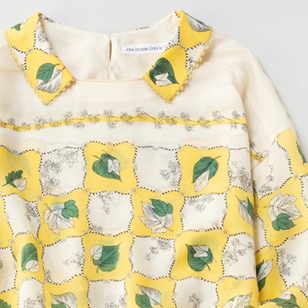 Winter leaf
こちらのブランドの立ち上がりはイエローとコーラルのブライトカラーに、
グリーンの葉が緩やかに揺れる「Winter leaf」から。
暗く重たくなりがちなシーズンを、柔らかな素材と優しい色合いが穏やかに彩る。
アンゴラヤーンのプルオーバーやアウターと合わせて、ほっこりと心暖まるシリーズを…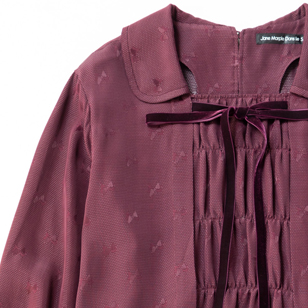 Ribbon jacquard
落ち感の有るレーヨン刺し子ジャカードに、パターン化された小さなリボンを立体的に織り込んだ「Ribbon jacquard」。
ナローな素材感を活かしたボトムスやドレスは、カジュアルダウンしたスタイルから、
シーズンレスなフォーマルシーン迄、多様なオケージョンをスタイリッシュに装って…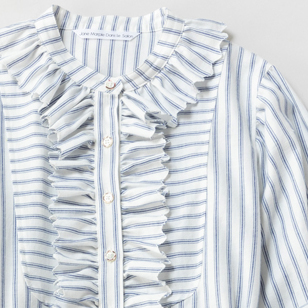 Vintage stripe
ヴィクトリア時代の部屋着を彷彿させる「Vintage stripe」。
コットンビエラを起毛したストライプには、当時流行った大胆なスカラップ刺繍が飾られる。
キッドモヘアやパターンMIXのニット、メンズ仕立てなハンティングジャケットetc…
今を感じるアイテムとの暖かなレイヤードで、この冬に優しくもキリッと佇んだスタイルを……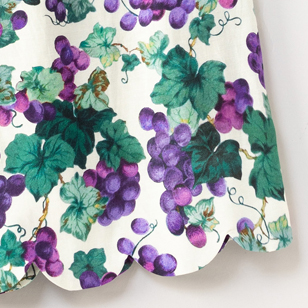 Grape palace
ヴィンテージのファブリックにインスパイアされて描いた「Grape palace」。
アイボリーとネイビー、2色の宙を見上げるブドウ棚は、其々の表情をリリカルに映し出す。
ミンク加工を施したカーディガンは、ハンドタッチの刺繍を加えて、コーディネイトを楽しく華やかに魅せる。
永い時代とともに在ったブドウへの憧憬を、ドラマティックなテキスタイルに乗せて、
深まる季節に美しくたおやかな時が流れる…