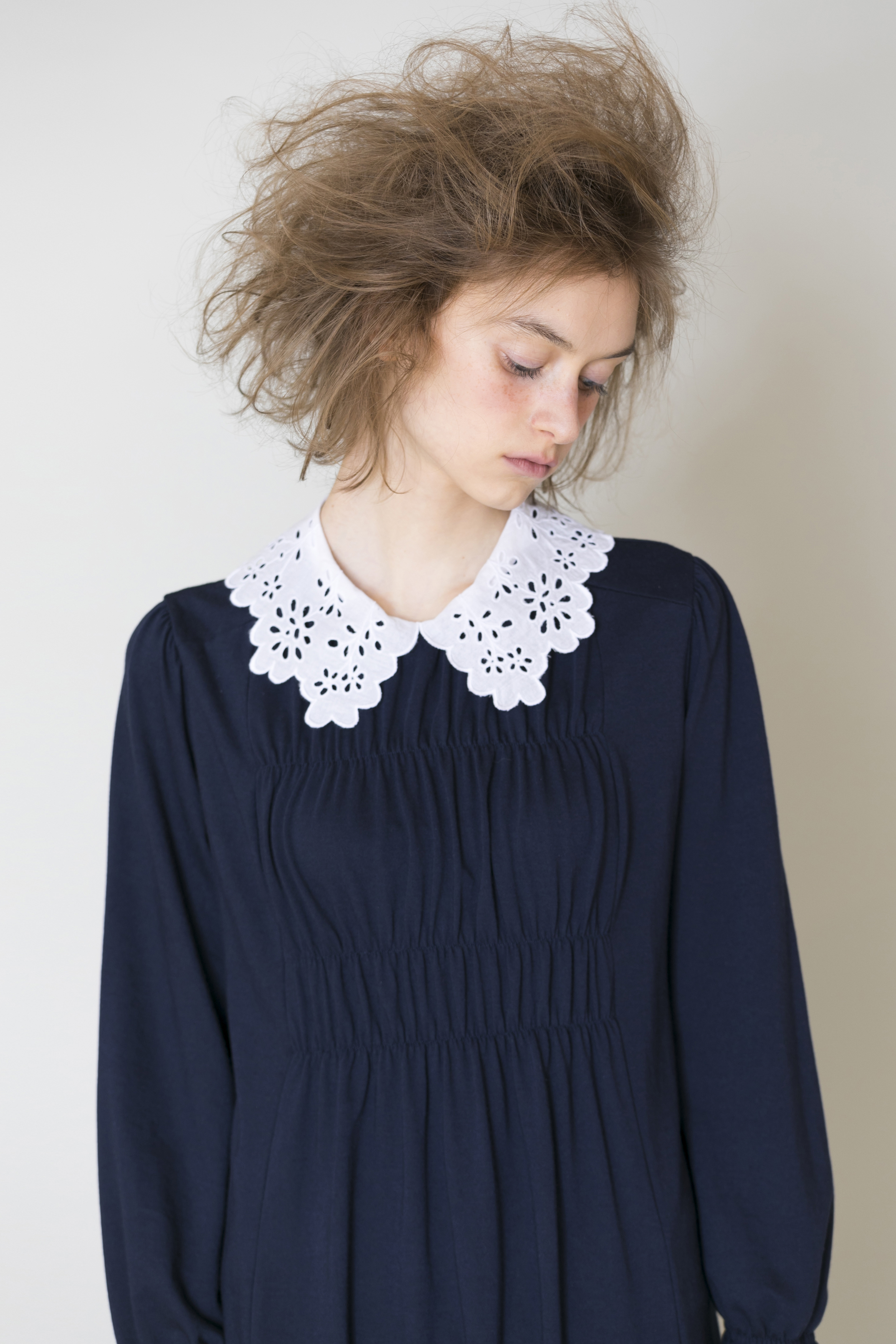 2019 spring & summer I
I WISH YOU PEACE


This piece attracts the wing.
This piece produces a smile.
A lot of thoughts on one material.

〈Jane Marple〉
"Chromos bouquet" - a printing technic, favored in 19th Century, is beautifully represented inside a three-color scarf with ribbon border.
With dots placed in a regular way, our season starts with a gentle and slightly unsweetened airy piece.

"Ribbon stripe jacquard" - pin check, block check, dots and thin ribbons of 1cm are tidily placed on a barathea fabric.
This series offers a large variety of coordinates with items combining logo ribbons with jacquard, sometimes plain, sometimes with dots placed in a regular way.
A pure white is chosen for collar, yoke and bottom - indispensable details for a handsome expression.
Take vivaciously a neat and charming trad style : the trademark of the brand.

Strawberry is an indispensable motif of this season.
"Strawberry label scarf" is a square with eight sorts of charming labels, surrounded by fresh bushes.
Knitted fabric, shirt, skirt are decorated with a decoupage technique.
Solve a mystery of each label, take joyfully the special Strawberries on your heart.

Ribbon and logo are two elements which have been evolving with the brand's history.
"Jane's drawing" - tricolor and monotone are freshly added to blue, the key color of this season.
This series shows the brand's history and its depth, with orthodox dress style, stadium jumper with embossed ribbon pockets, as well as sweatshirts dress using zip.
Take a bright tone backpack as icon to run through the coming season.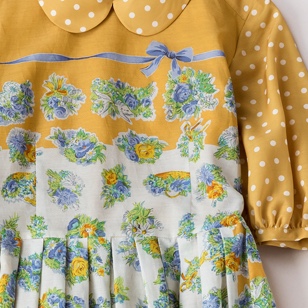 Chromos bouquet
リボンで縁どられた3色のスカーフの中に、19世紀ヨーロッパで流行したプリント技法が美しく再現された「Chromos bouquet」。
正位置に並んだドットを合わせて甘さを抑えたエアリーで優しいシーズンの立ち上がりを…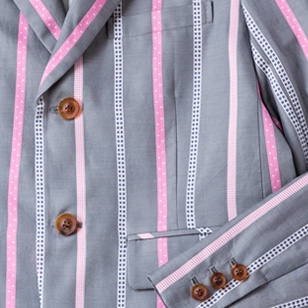 Ribbon stripe jacquard
ピンチェック、ブロックチェック、ドット、1cm程の細いリボンが、バラシア組織のグランドにすっきりと配置された「Ribbon stripe jacquard」。
こちらも正位置に並んだドットジャガードや無地にロゴリボンをプラスしたアイテムとのコーディネートもバラエティいっぱいに。
凛とした表情に欠かせない衿やヨーク裾布にはピュアなホワイトを。
ブランドならではの清楚でチャーミングなトラッドスタイルを溌刺と…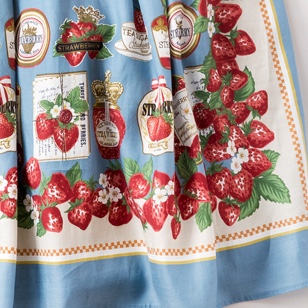 Strawberry label scarf
このシーズンには欠かせないストロベリーモチーフ。
今季は、8種類の愛らしいラベルを瑞々しいブッシュがぐるっと囲んで矩形で表わした「Strawberry label scarf」。
デコパージュで飾ったニットやブラウス、スカート、其々のラベルの謎解きも併せて、
スペシャルな「Strawberries」を楽しさいっぱいに胸に飾って…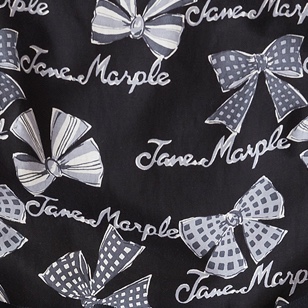 Jane's drawing
ブランドのヒストリーと共に描かれてきたRibbonとlogo。
シーズンのキーカラーのブルーにトリコロールやモノトーンも新鮮に加わった「Jane's drawing」。
王道なドレススタイルから立体的なRibbonのポケットのスタジアムジャンパーやzip使いのスウェットドレス迄、
ブランドの歴史と奥行きを見せるシリーズ。
ブライトトーンのリュックをアイコンに、新しいシーズンを颯爽と駆け抜けて…

〈Jane Marple Dons Le Salon〉
"Climbing rose" blossoms on the far side of a calm English garden.
This series raises a strong nuance within soft colors.
A beautiful season is adorned by delicate embroideries and laces, in a trendy sheer mood.

"Water flower" reflects a mysterious charm with dots and flowers designed in a studio in England.
Flowers floating on water surface oscillate in a beautiful silhouette, attracting wind.
With a graceful assortment with "Climbing rose", a contemporary style evolves to a new elegance.

"Mimosa jacquard" is one of our masterpieces of this season.
The embossed mimosas made with a traditional Japanese technique of double face cut jacquard becomes a traditional textile. The 8th March, have a special day with a liberty lady style and a happy smile.

"Maison d'artisan" express our admiration for Lyon in France, the city enriched with their fabric productions since ancient times.
So many histories are sprinkled in a piece of scarf.
A textile with spinning wheels motifs combined with a silk organza represents a lyrical series in tribute to the Ancient Lyon.

"Blue bone-china" offers pure white porcelains, on which royal blue landscapes and fruits motifs are drawn.
The tablewares are placed on a fabric combined with laces and organza. Take your sweat shirt for a pleasant afternoon tea.

"Jelly flower" makes flower bowls bouncing on a blue and black ground.
The classical dress, tailored with a soft chiffon and laces of the same color, is inspired by "Agatha", the woman that the brand adores.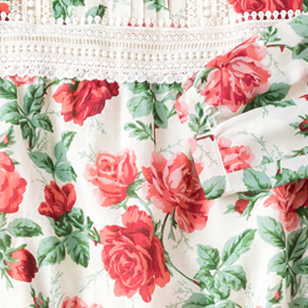 Climbing rose
静かなイングリッシュガーデンの奥に咲きほこる「Climbing rose」。
優しい色合いの中にどこか強いニュアンスを感じるシリーズ。
繊細な刺繍やLace、トレンドのシアーなムードを併せて美しいシーズンを彩って…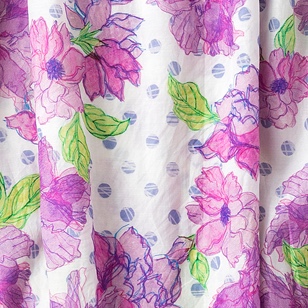 Water flower
英国のスタジオで描かれた少しアーティーなフラワーとドットが不思議な魅力を映し出す「Water flower」。
水面に浮かぶ花は美しいシルエットに揺れ、風をあつめる…
前出の「Climbing rose」との潔い組み合わせも、今を伝えるスタイルが新しいエレガンスへと変化して…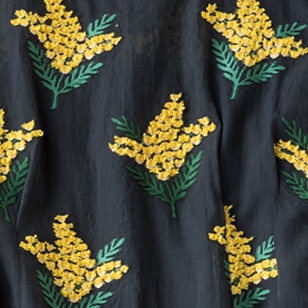 Mimosa jacquard
今シーズン珠玉のシリーズの一つ「Mimosa jacquard」。
日本の伝統的な両面カットジャガードを駆使して作った立体的なミモザが圧倒的なテキスタイルに。
3月8日、特別な1日を自由なLadyスタイルと倖せな微笑みで迎えて…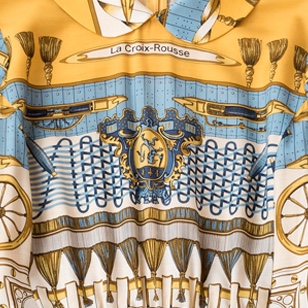 Maison d'artisan
古から織物の街として栄えたフランス、リヨンへの憧憬を描いた「Maison d'artisan」。
1枚のスカーフの中に様々なHistoryが鏤められる。
糸車をパターン化したテキスタイルやシルクオーガンジーと合わせて、
遠い時代へのオマージュを捧げたリリカルなシリーズを…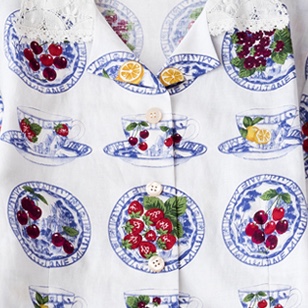 Blue bone-china
真白な磁器にロイヤルブルーの風景とフルーツモチーフが描かれた「Blue bone-china」。
布地に並んだテーブルウェアと共にレースやオーガンジー、ジャージをはおって季節のアフタヌーンティーを楽しんで…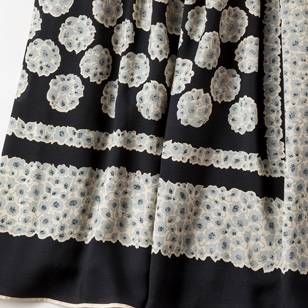 Jelly flower
ブルー、ブラックの2色のグランドにふわふわとしたフラワーボールが弾んだ「Jelly flower」。
やわらかいシフォンと同色のレースで仕立てたクラシックなドレスは、
ブランドが愛して止まない女性「Agatha」をイメージしたもの…