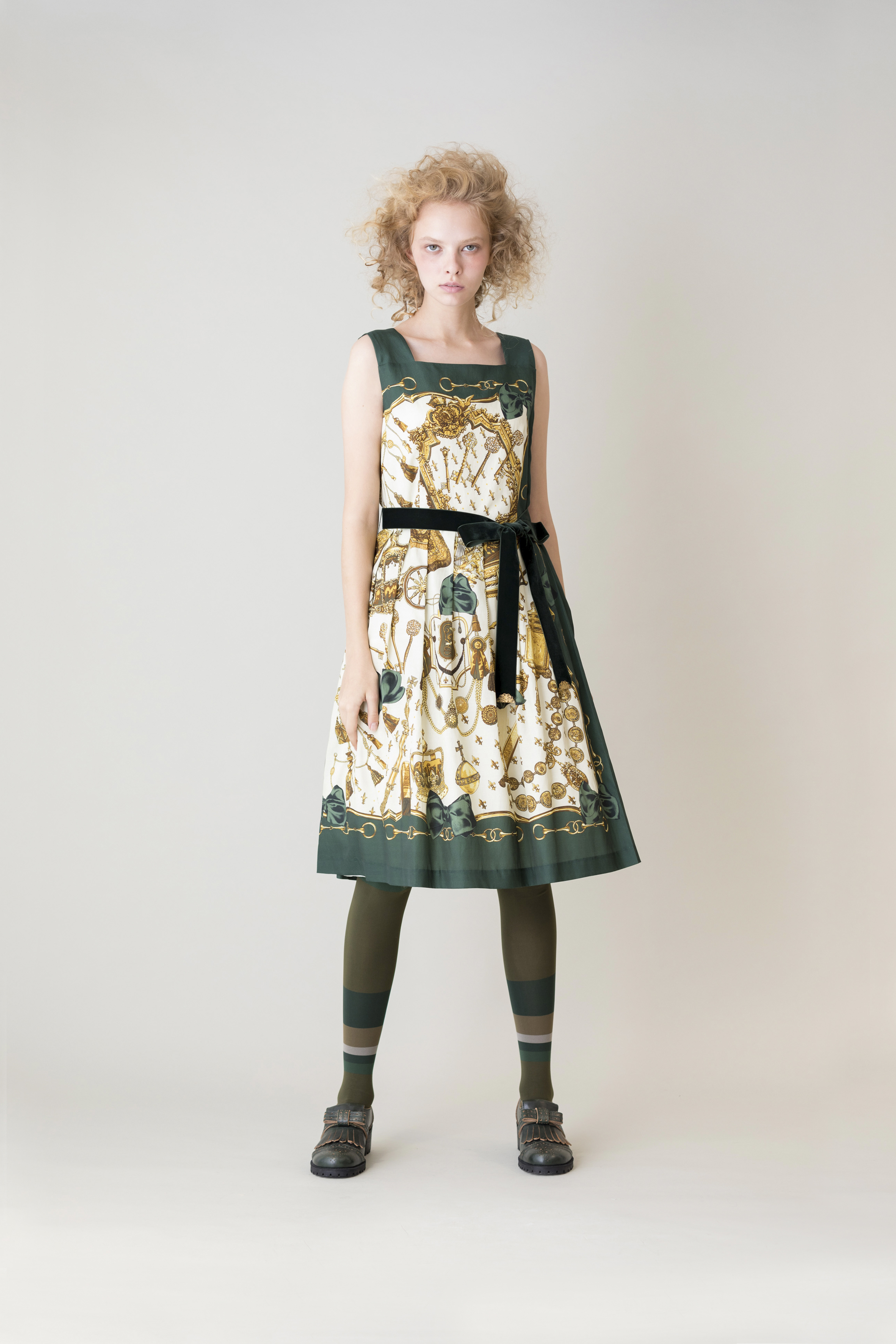 2019 autumn & winter Ⅱ
OUR LIFE IS OUR ART


〈Jane Marple〉

Lovely animals are dancing on "Circus town".
The bright color printing is spreading all over the fabric,
while some nostalgic motifs are decorating the Handkerchief Collar blouses and dresses.
Joyful souvenirs delight this autumn through the textile.

"Little tassel dolls" associates Russian traditional Matryoshka to the tassel,
highly prized ornament in the Court while the European Renaissance.
The dolls are swinging between three-color ribbons, as messengers travelling abroad.

This season, we collaborate with the illustrator Taro Manabe
to create a fairy tale with "A piece of the fable".
Little Red Riding Hood and the wolf are dancing in a forest, on its ground plenty of stories.
Fisherman's sweaters with warm handworks, fair isle cardigans and bolero capes invite you to dream beyond the deep forest.

"Stay gold" is the the series finale for this season.
The royal motifs, so precious to our brand, are shining inside bits and ribbons, emphasizing its absolute beauty on the scarf.
The message remains, from the past to the future, among innocent thoughts.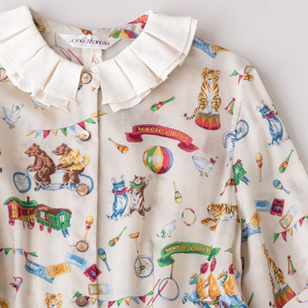 Circus town
愛らしい表情いっぱいに動物たちが繰り広げる「Circus town」。
ブライトカラーに楽しく拡がる全面プリントと、懐かしいモチーフに飾られたハンカチーフカラーのブラウスやドレス。
深まるシーズンに、ワクワクした愉しい記憶をテキスタイルに重ねて…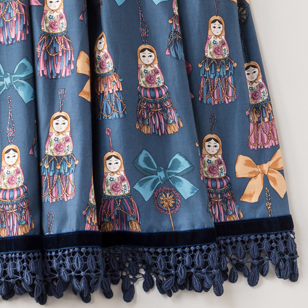 Little tassel dolls
伝統的なロシアの民芸品マトリョーシカに、ヨーロッパ ルネサンス期に
宮廷装飾品として発展したタッセルを組み合わせた「Little tassel dolls」。
3色のリボンの間に美しく揺れる人形達は、異国を旅するメッセンジャーへと変わる。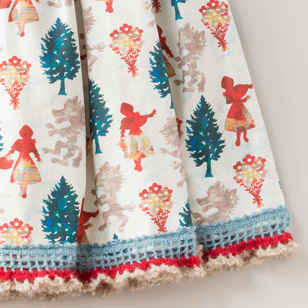 A piece of the fable
今季のフェアリーテイルはイラストレーター真鍋太郎氏との
コラボレーション、「A piece of the fable」。
物語をグランドに敷き詰め、赤ずきんとオオカミが森の中に踊る…
温かなハンドワークを加えた編み込みセーターやフェアアイルのカーディガン、
ケープボレロを合わせて深い森の向こうへと心が弾んで…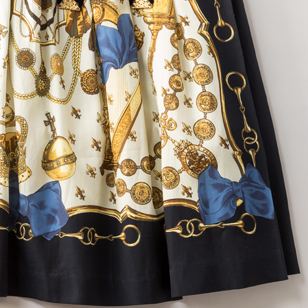 Stay gold
今季のフィナーレに登場するシリーズは、ブランドが大切に紡いで来たロイヤルなモチーフが、圧倒的で美しい存在感に輝く「Stay gold」。
ビットとリボンに飾られたスカーフの中、過去から未来へとイノセントな想いには、ただ在り続けるメッセージを込めて。

〈Jane Marple Dans Le Salon〉

Colorful bobbins, chatelaine edging, vintage buttons, pincushions and thimbles are neatly stringed together in "The Dressmaker".
The objects, carefully used in ancient times, remind the craftsmen's spirit,
and offer a cheerful moment to daydream about each motif.
The contemporary cutting brings a new approach to the ensemble.

Through the embroidery, like a fabric picture book, "British countryside" express a bucolic landscape somehow humorous.
The technique of relief creates a nostalgic mood.
With some classical glen check, enjoy the English gentleman's style.

For this season, "Lake Octavia" represents a liberty print painted with vivid colors in an Oriental mood,
inspired by the archives of the textile company.
A Japanese original embroidery technique, which has been becoming rare today, is highlighted in blouse-jackets and dresses.
The frill trimming dress tributes to Agatha Christie with its handsome beauty.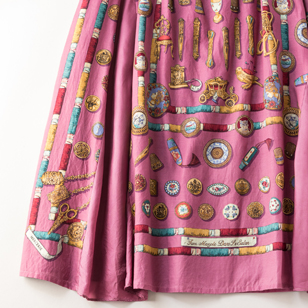 The Dressmaker
カラフルな糸巻きとシャトレーヌの縁取りにヴィンテージの釦やピンクッション、
指ぬき等が整然と美しく並んだ「The Dressmaker」。
遥か彼方に丁寧に使用されていたモノ達と、職人気質に魅了されながら、一つ一つのモチーフに思いを馳せる倖せな時間。
今の時代の潔いカッティングで新しいアプローチに紡がれる…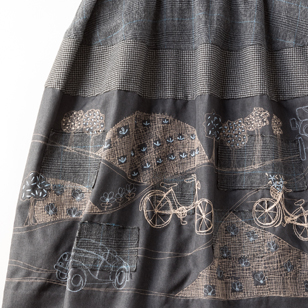 British countryside
牧歌的なイギリスの田園風景を、布絵本のように刺繍で表した「British countryside」。
ハンドライクなテクニックはユーモアに彩られたノスタルジアが漂う。
クラシックなグレンチェックを合わせてGentleな英国スタイルを。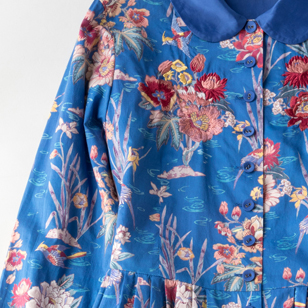 Lake Octavia
今季のリバティプリントはアーカイブからインスパイアされ、東洋的なムードの中に鮮やかな色合いで描かれた「Lake Octavia」。
ブラウスジャケットやドレスには、今では希少な横振刺繍が飾られる。
フリルトリミングのドレスはアガサクリスティへのオマージュを込めた凛とした美しさに…