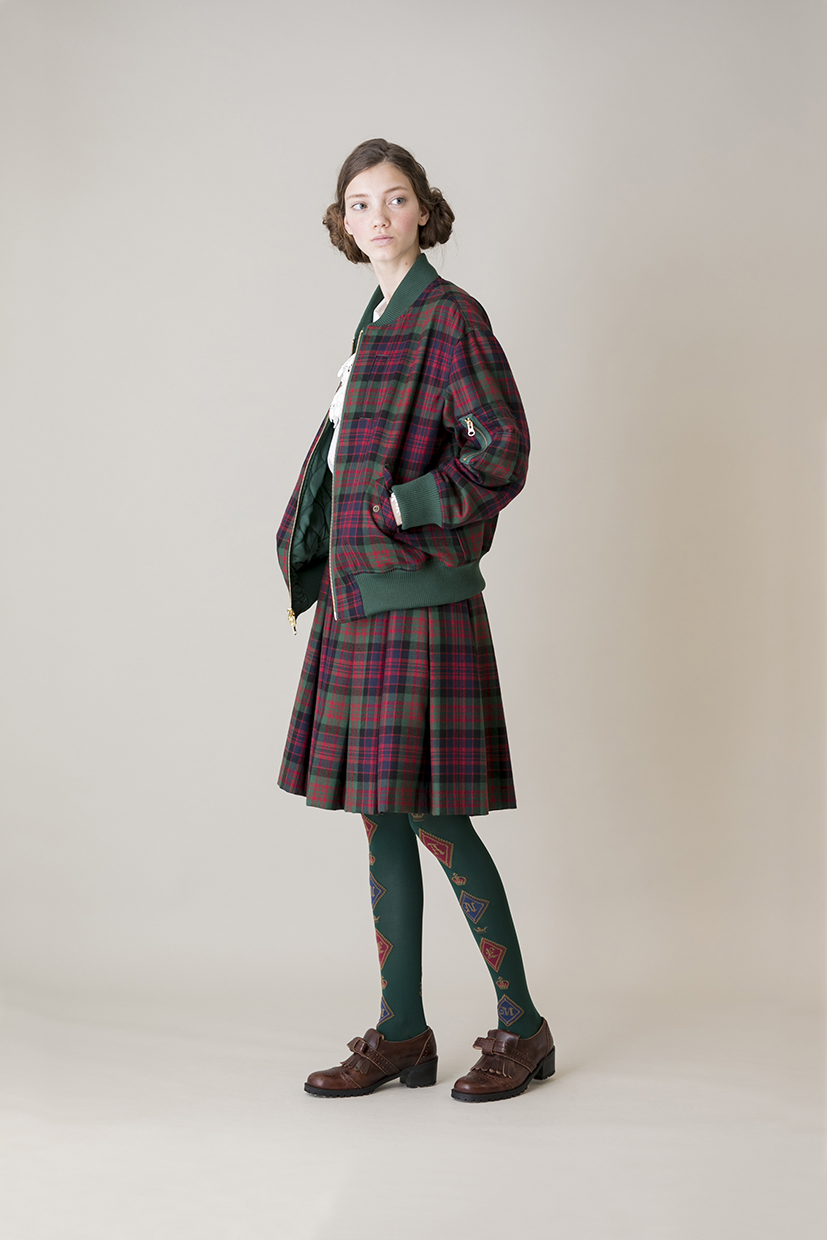 2019 autumn & winter I
OUR LIFE IS OUR ART


〈Jane Marple〉
"Shakespeare's passage" is designed with an audacious composition made of motifs close to Shakespeare's universe, in the shape of a cloister.
The quill pens used by the poet to create his pieces are brought as a printing in this series: the season starts dramatically…

"Alphabet Français" - the French fabric picture book, has nostalgic and charming motifs spread on.
Combined with a vintage embroidered collar or a graphical intarsia sweater, you can enjoy becoming a good old French girl.

"Regimental stripe" has our logo weaved in. It is crafted in a special and cute traditional style. Herringbone weaved with wrap and weft of the same colour expend lightly, in a mannish way. To contrast, a frill collar or a ribbon with logo will add a Neo romantic flavour.

"Royal parade" is beautifully decorated with musical instruments of the Band of the Scots Guards and the royal carriage, in the manner of a scarf. It brilliantly plays the music with a knit, a tartan check and a lace. This series has the extreme beauty and presence of a handcraft thanks to its embroideries, carefully ornamented with the motifs.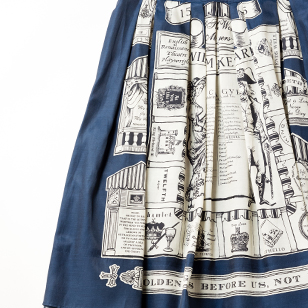 Shakespeare's passage
シーズンの立ち上がりはシェイクスピア縁りのモチーフを回廊の様に並べ、大胆な構図で描いた「Shakespeare's passage」。
作品を彩ってきた羽ペンのプリントを組み合わせたシリーズで、ドラマティックなシーズンの幕明けを…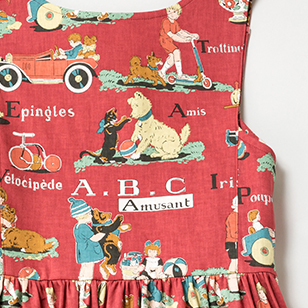 Alphabet Français
懐かしく愛らしいモチーフがちりばめられた、フランスの布絵本「Alphabet Français」。
ヴィンテージ刺繍のスペアカラーや、グラフィカルなインターシャセーターを合わせてgood oldなFrench girlを楽しんで…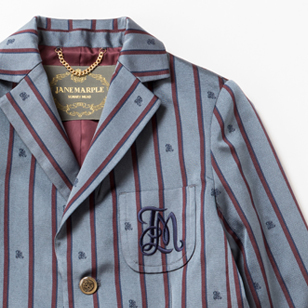 Regimental stripe
今季の「Regimental stripe」はブランドのロゴを織り込んだ、特別でキュートなトラッドスタイルに。同じ色の経糸と緯糸で織り上げたヘリンボーンでは少しマニッシュな展開を。ロゴリボンやフリルカラーで相反するNeoロマンティックな香りをたっぷり乗せて…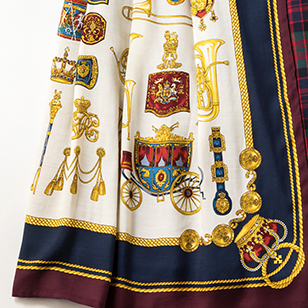 Royal parade
英国近衛兵の楽隊と皇室馬車を美しく飾ったスカーフ「Royal parade」。
ニットとタータンチェックやレースを合わせてシーズンを華やかに奏でる。モチーフから抜き出され丁寧に装飾された刺繍のアイテムは、工芸品さながらの美しさと存在感に彩られた圧倒的なシリーズに…

〈Jane Marple Dans Le Salon〉
"Paper theater" is also known as an origin of Pollock's Toy Museum in London.
The unique and dramatic presence of 12 shows & its characters are faithfully depicted all over the fabric. This fantastic series, with a classic taste, recalls emotional feelings of childhood.

"Port of the poet" , in the manner of a scarf, is designed with motifs shaped as piled blocks, encircling ornamentations referring to the poem about a port by Belgian poet Émile Verhaeren.
This hybrid pattern work, typical of our brand, is beautifully swaying on the scarf. The spirit of Verhaeren brings lyrical intelligence to the textile.

"Art in bloom" is designed with paintings by Raoul Dufy, a French painter from the 19th century, and other impressionist painters. We added our own original hand paintings on it.
Wearing this skirt or dress patterned all over feels like , literally, wearing the paintings. We created this series with a new approach to the world of these magicians of colours. This series represents the main look of this season's theme.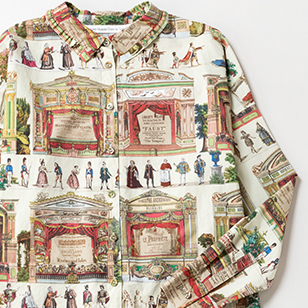 Paper theater
ロンドンのポロックミュージアムの起源でもある「Paper theater」。
12種類の演目と登場人物はユニークでドラマティックな存在感いっぱいに布地に広がる。幼い頃のドキドキとしたエモーショナルな思いにクラシカルなエッセンスを加えたファンタスティックなシリーズを…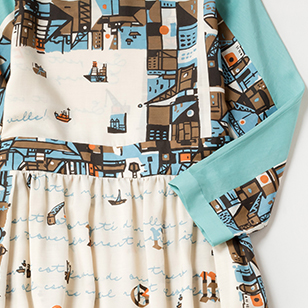 Port of the poet
ブロック状に積み上げられたモチーフ、中央にはベルギーの詩人エミール・ヴェルハーレンの港にまつわる詩が飾られたスカーフ「Port of the poet」。
ブランドらしいハイブリットなパターンワークにスカーフが美しく揺れる。ヴェルハーレンが掲げた精神をテキスタイルに併せたリリカルなインテリジェンスを…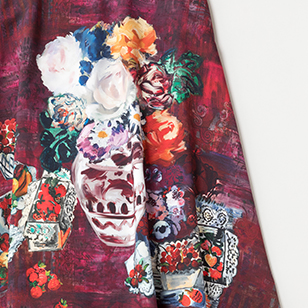 Royal parade
19世紀のフランス画家ラウル・デュフィと他の印象派の作品にオリジナルの手描きを加えた「Art in bloom」。
総柄のプリントから、まるで絵画をまとったようなスカートやドレス。色彩の魔術師が生み出した世界を新しいアプローチで創り込んだシリーズは今季のテーマの代表的なLOOKとして登場する…