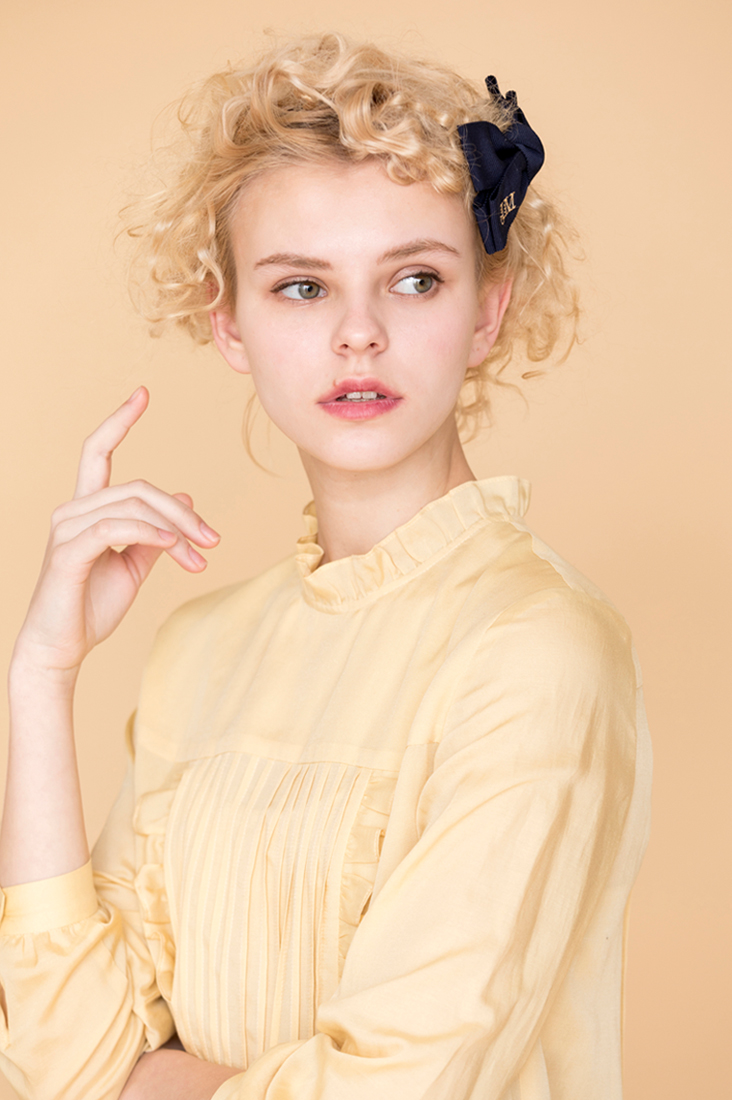 2018 spring & summer I
GOOD DAY SUNSHINE


GOOD DAY SUNSHINE

A wonderful day.
With plenty of sunshine and wind, 
let's have a feast for tomorrow…


Colorful flowers and fruits, 12 different kinds of packages beautifully set in "Seeds of Hope".
In addition to classic dress, this season's trend, organdy, a reversible souvenir jacket with which we can enjoy two different expressions and a hat decorated with a corsage deliver a fresh approach…
We will brighten up a start of the new season with lots of hope…

Our brand's precious icon, Ribbon.
This season we have three patterns - dots, checks and stripes - on two textiles…
The first comes "Ribbon Go Around" re-styling the past archives in today's feelings.
Rhythmically arranged print is reborn as a new style with dignified silhouette and items in airy gentleness.
Another textile is "Ribbon Jacquard Stripe" with each ribbon neatly woven.
From light setup to very playful 2 Face skirts and dress…
Lots of fun coordinating with plain items and ribbon print.
Cute Good Girl runs through the season…

The people enjoying historical and symbolic city logos and landmarks...
"Bon Dimanche" is uniquely arranged french 'good old' in a bold balance.
A precious day beautifully arranged in a pattern work of fine line of sight.
This season's pearl is this series transmitting happy fragments from the far past in today's world…

"Strawberry Field" depicted on tricolor canvas in oil-painting touch.
This season, in our inevitable Strawberry print, somewhat silent will and personal thoughts are prevailing…
Utopia calmly flowing in a cloth picture book.
Layering our wishes for happiness on each strawberry and each item…

"The Beatles" is in the air on the background of this season's theme.
We took the "Apple", The Beatles' label, as a motif and freshly arranged it in "Little Apples" with added Scandinavian essence.
A charming swinging style with a little bit casual-down smoothly swaying material will bring you lots of new wind…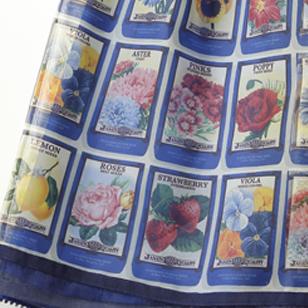 Seeds of hope
色とりどりの花やフルーツ、12種類のパッケージが美しく並んだ「Seeds of hope」。
王道のワンピースやドレスに加え、今季のトレンドでもあるオーガンジー素材や
2つの異なる表情が楽しめるリバーシブルのスーベニアジャケット、コサージュで飾ったHATも新鮮なアプローチに…
新しいシーズンに希望を込めたシリーズで立ち上がりを彩ります。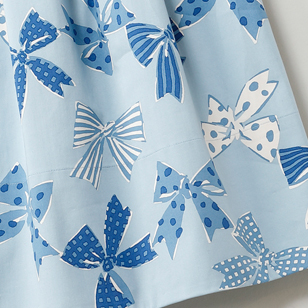 Ribbons go around
ブランドの大切なアイコンでもあるRibbon。
今季はドット、チェック、ストライプ3つのパターンを2つのテキスタイルに乗せて…
最初に登場するのは過去のアーカイブを今の気持ちにリ・スタイルした「Ribbons go around」。
リズミカルに配置されたプリントは、エアリーな優しさの中に凛としたシルエットやアイテムを併せて新しいスタイルに生まれかわる…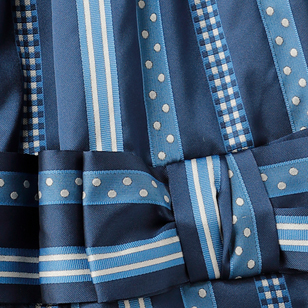 Ribbon jacquard stripe
もう一つのテキスタイルは、それぞれのリボンをすっきりと織り込んだ「Ribbon jacquard stripe」。
軽快なセットアップから遊び心いっぱいの2 Faceスカートやドレス…
無地のアイテムやリボンプリントとのコーディネイトも楽しさいっぱいに。
cuteなgood girlがシーズンを駆け抜ける…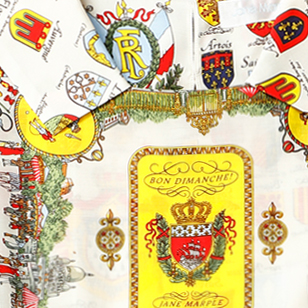 Bon Dimanche
ヒストリカルでシンボリックな市章と名所に遊ぶ人々…
フランスのgood oldを大胆なバランスでユニークにアレンジした「Bon dimanche」。
大切な一日を、丁寧な視線のパターンワークが美しく繋ぎ合わせる。
遠い時代の倖せな欠片を今に伝える今季珠玉のシリーズを…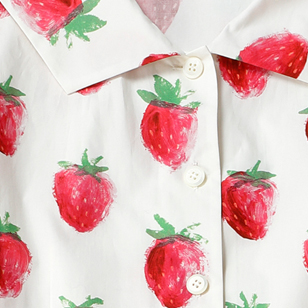 Strawberry field
3色のキャンバスに油彩タッチで描かれた「Strawberry field」。
毎シーズン欠かせないストロベリープリントも、どことなく寡黙な意志とパーソナルな思いが今季は広がる…
布絵本の中に静かに流れるユートピア。1つ1つのストロベリーとそれぞれのアイテムに倖せへの思いを重ねて…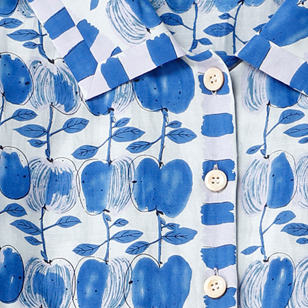 Little apples
今季のテーマのバックグラウンドに流れる「THE BEATLES」。
彼らが作ったレーベル「Apple」をモチーフに、北欧のエッセンスを加え瑞々しく並べた「Little apples」。
しなやかに揺れるマテリアルを少しカジュアルダウンさせたチャーミングなswingingスタイルで新しい風をたくさんあつめる…

GOOD DAY SUNSHINE

A wonderful day.
With plenty of sunshine and wind, 
let's have a feast for tomorrow…


"Clemantis Garden", best described in floral language, "beautiful spirit" opens a new season.
Lavender and blue grey, these two cool colorings accompany Clemantis, the silently blooming queen of flowers.
We propose a romantic garden style with absolute elegance in slow gentleness…

Lyon, the second largest french city that has flourished for silk products since the 15th century.
"Croix-rousse" a card delicately depicting the history of textile and beautiful streets on the background of a symbolical lion motif.
Its beautiful silhouette has a massive presence…
A precious history woven by people, a dramatic museum emerges in a piece of clothes…

"Flower Parlour" reminds us of classical interior fabric.
Gorgeously layered textiles with many colors touch deeply a heart…
A bold print and delicate embroidery.
Our brand-like authentic cutting mixed with a contemporary salon style…

"Cut Work Embroidery" reproducing vintage embroidery technique.
Numerous baller laces decorating a cotton typewriter are finely and individually hand-cut.
Fine craftwork done with long effort delivers preciously an homage to the far old era in refreshing items…

Both of our brands deliver a rich variety of joyful accessory.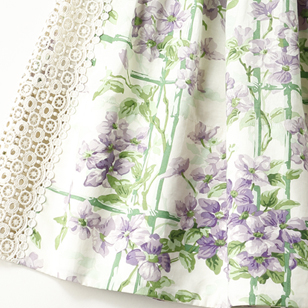 Clemantis garden
「美しい精神」の花言葉がぴったりの佇まいに、シーズンの幕を開ける「Clematis garden」。
ラベンダーとブルーグレイ、2つのクールなカラーリングに静かに咲きほこる花の女王クレマチス。
ゆっくりとした優しさの中に揺るがない品性が漂う、ロマンティックなガーデンスタイルを…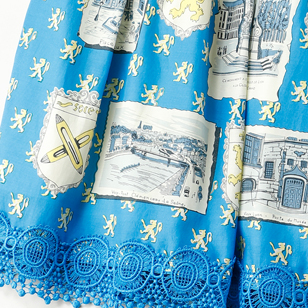 Croix-rousse
15世紀以降絹織物で栄えてきたフランス第二の都市リヨン。
シンボリックなライオンモチーフを背景に、微細なタッチで描かれた織物の歴史や美しい街並みのカード、「Croix-rousse」。
美しいシルエットに圧倒的な存在感…
人々が紡いできた大切なヒストリー、1枚の服の中にドラマティックなミュージアムが浮かび上がる…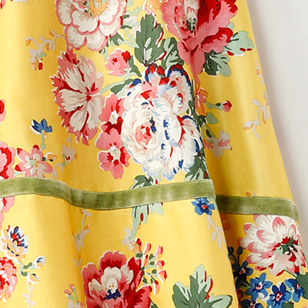 Flower parlour
クラシックなインテリアファブリックを彷彿させる「Flower parlour」。
贅沢にたくさんの色数を重ねたテキスタイルは、深く心に訴えかける…
大胆なプリントと繊細なEmbroidery。ブランドらしい確かなカッティングに、現代のサロンスタイルを重ね合わせて…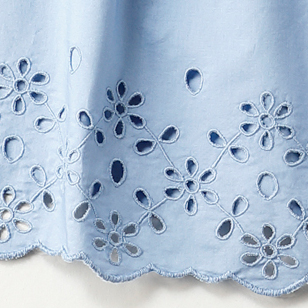 Cut work embroidery
ヴィンテージの刺繍のテクニックを再現した「Cut work embroidery」。
コットンのタイプライターを飾る沢山のボーラー刺繍はきめ細やかに一つ一つハンドカットされたもの。
時間をかけた丁寧なクラフトワークは清々しいアイテムの中に遥かな時代へのオマージュを大切に伝える…