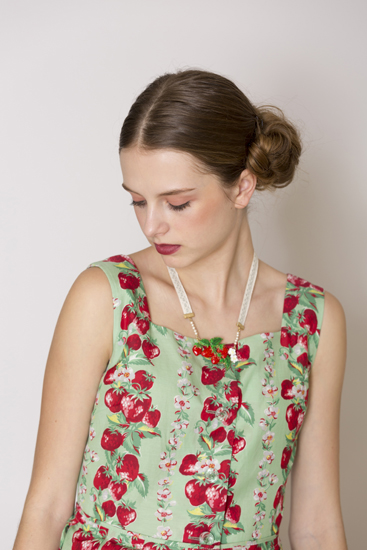 2017 spring & summer Ⅰ
WHOLE LOTTA LOVE



"Toy's Department" with lovely toys and crown printed on fresh tricolor London stripes.
We deliver our happy season's prologue with a cardigan decorating motifs that look like almost moving around or a sweater with funny Tabby Cats…

Flower bouquet depicted in a bold touch all over the fabric.
This season's message on "Beautiful Bouquet" with a motif that could become too sweet.
Coordinate with a Sweet & Cool taste mixing with a vintage-like souvenir jacket…

Mannish British checks and flower laces go along with a sharply-tailored suit style and a jumper skirt with homage to Twiggy…
Inspired by "Swinging London" from 60's England…

A secret garden with full-blooming flowers of the season.
Birds, butterflies, bees and a cat happily playing in "Straycat's Garden".
Idyllic and free story spreads onto 360° circular fabric…

Spring-time trad style is "Dot Stripe Jacquard" in gentle bright colors.
From a setup of Regatta jacket to dormitory one-piece dress…
Brit girl briskly running with our new opera-ribbon wing tip...

"Beau Chocolat" with 9 chocolates placed in a rather modern manner than usual on pin-dotted cloth.
This pop and cute series comes with an original-logo-marked ribbon firmly tied on the chest with longings for chocolatiers...

"Strawberry Topiary" with our season's indispensable fruits - well ripen strawberries and small flowers piled up in stripes.
Fresh textiles and fine pattern works are full of royal spirit…

A fairy tale continued to be told by our brand.
For the first time
we picked up a Japanese picture book "our one-piece dress".
A fresh series with a lovely worldview coming from the 1960's mixed with today's feelings.
The rabbit dancing in "My Favorite Dress" decorates our season's finale with full of loveliness.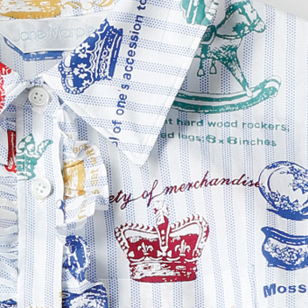 Toy's Department
爽やかな3色のロンドンストライプに愛らしいおもちゃとクラウンがプリントされた「Toy's Department」。
今にも動き出しそうなモチーフを飾ったカーディガンや、ファニーなTabby Catsのセーターで、楽しい季節のプロローグを…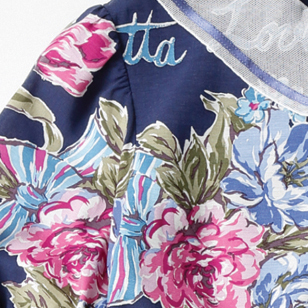 Beautiful Bouquet
布生地いっぱいに大胆なタッチで描かれたフラワーブーケ。
甘くなりがちなモチーフに今季のメッセージを綴った「Beautiful Bouquet」。
ヴィンテージテイストのスカジャンを合わせて、Sweet&Coolなコーディネートを…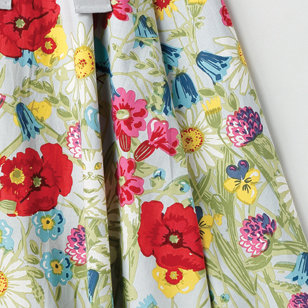 Straycat's Garden
季節の花々が咲き誇る秘密の庭園。
鳥や蝶々や蜂、そして一匹の猫が倖せに遊ぶ「Straycat's Garden」。
のどかで自由なストーリーは、360度サーキュラーの布地に広がって…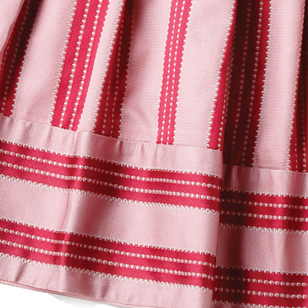 Dot Stripe Jacquard
春のトラッドスタイルは、優しいブライトカラーの「Dot Stripe Jacquard」。
レガッタジャケットのセットアップから、ドミトリーワンピース迄…
新作のオペラリボンのウィングチップと一緒に颯爽と駆け抜けるブリットガールを…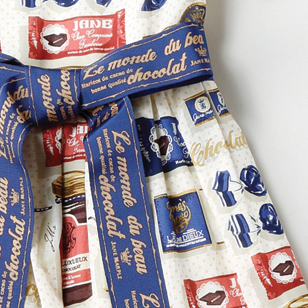 Beau Chocolat
ピンドットのクロスに9種類のショコラがいつもより少しモダンに並んだ「Beau Chocolat」。
PopでCuteなシリーズは、オリジナルロゴのリボンをギュッと結んで、ショコラティエールへの憧れを胸に飾って…。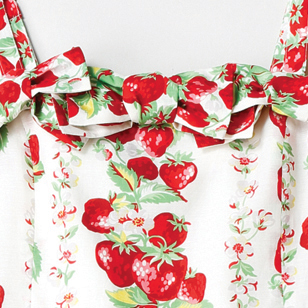 Strawberry Topiary
シーズンに欠かせないフルーツは、たわわに実ったストロベリーと小花を
ストライプ状に積み重ねた「Strawberry Topiary」。
瑞々しいテキスタイルと丁寧なパターンワークは、ロイヤルスピリットいっぱいに…


"Stripe Lover" with 5 different shirt stripes sewn into one favorite feeling.
Free and cool series with fine cutting and beautiful making…

Country house has kept its calm presence in British culture.
"Decoration Wall" enveloping the great salon.
The textile with fine depiction of a bold composition is full of our brand-like historical philosophy…

"Flower Plate" cheerfully placed onto vintage check cloth.
Handkerchief-color one-pice dress and tunic dress etc…
We deliver a Holiday style filled with happiness colored with nostalgia and gentleness…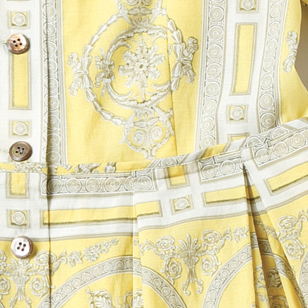 Decoration Wall
英国文化の中に静かに佇んで来たカントリーハウス。大広間を包み込む「Decoration Wall」。
大胆な構図を綴密に描いたテキスタイルは、ブランドらしいヒストリカルなフィロソフィーいっぱいに…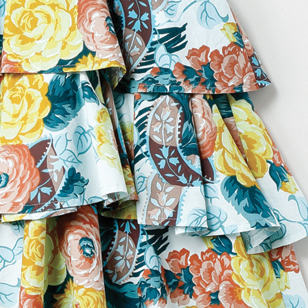 Flower Wallpaper
クラシックで大きなリボンにまとめられた、ドラマティックなイングリッシュローズ、「Flower Wallpaper」。
過ぎ去った時代を結んだ、強いロマンティシズムに心を寄せて…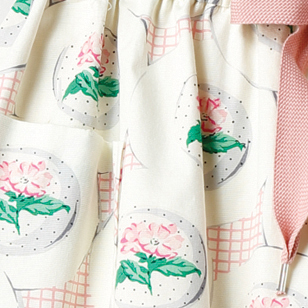 Flower Plate
ヴィンテージチェックのクロスに、賑やかに並んだ「Flower Plate」。
ハンカチーフカラーのワンピースやチュニックドレスetc…
懐かしさと優しさに彩られた、倖せいっぱいのHolidayスタイルを…